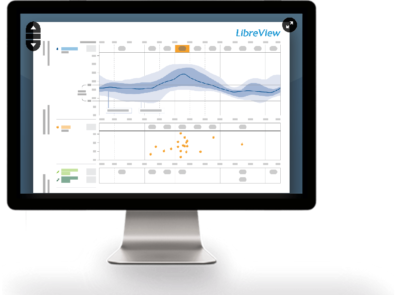 What is a Libre Sensor:
The FreeStyle Libre sensor is a small medical device that continuously measures your pet's glucose levels, day and night.
The device works hand-in-hand with an App and scanner to relay blood glucose readings directly to you and your veterinarian.
Instructions for Set-up:
Go to

Libreview.com

and create a patient account
Accept the LibreView invitation from Briarcrest. I sent this to the email address (insert owners email). The practice ID number is 5202984123
Use either the FreeStyle Reader or download Freestyle Libre 2 app on smartphone
Make an appointment for us to apply the sensor. Bring the sensor and reader (if using) to appointment.
Activate sensor with reader or with smartphone app.
Scan sensor at least every 8 hours
Download data to LibreView
If using the FreeStyle Libre mobile app, the data will update every time you scan the sensor.
If using the FreeStyle Libre reader, you need to install the LibreView Device Drivers to your computer. You then connect the reader to your computer to upload the data onto your patient LibreView account.
What to Expect After Placement:
To place the sensor we will shave a small patch of fur from the shoulder area of your pet. The area is then cleaned of any natural oils and/or dirt.
The sensor is placed and secured to the site. This is a non-painful process that takes about 1-2 minutes.
We will then place a t-shirt on your pet to help keep the sensor in place. If you would like, you may bring a pre-purchased shirt for your pet to the appointment.
*Please note that the supply of pet shirts available in the clinic varies and we may not have one for your pet on any given day.*
Expect the sensor to be in place for several days; it is made to last for about 2 weeks with humans, but oftentimes with pets, it will last ~3-5 days.
Your veterinarian will monitor the glucose reading from your pet and let you know if any changes need to be made to their diabetic regimen.
Please call 520-298-4123 to speak with a Veterinary Technician if you have any questions or concerns.